Cheating students perplex, dishearten teachers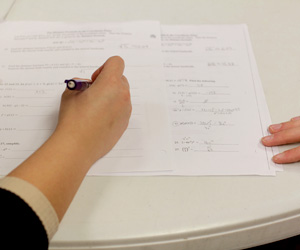 Photo Credit: Kit Schwarz
.
March 22, 2011 • Jackie Balzer, Online Editor
Filed under Feature
Walking between each row, the teacher's eyes wander over each student as they try to guarantee that everyone's eyes stay on their own paper. However, two eyes versus 30 eyes can definitely make this a difficult task.
Recently in staff meetings, the subject of cheating came up and according to a survey of students from each grade level, there are students who participate in cheating activities.
Cheating can be anything from copying a friend's answer on a test to copying a question on a homework assignment. It can take place in ultimately any class such as math, history or English, and while students think they are being sneaky, this is not always the case.
"Sometimes, if papers are copied and there are wrong answers all the same that just look too much alike, then it is evident students are cheating," math teacher Lisa Colwell said. "But if someone copies off of another student that gets the answers correct, then it is harder to detect."
For some students, writing an essay at the same time as another makes it easier to get the paper written, but sometimes teachers will see similar paragraphs in different essays that make them wonder.  A few English teachers are beginning to use a new website for turning in papers.
"The service is called turnitin.com," English teacher Lisa Renz said. "Students upload their writing to the website after I have set up assignments. It checks student documents against other student documents from HHS and past years, material online like essay services, and other student writing from all over."
Punishment for cheating varies from teacher to teacher depending on the class they're teaching. Several teachers give zeros for their grade, while others assign detentions. Some teachers do both.
"From the first day of class I make it clear to them that cheating is unacceptable," psychology teacher Matt Brooks said. "I set the tone pretty early. It's a clear procedure: I'll address it in front of the whole class, and they get a zero. If it happens again, the parents get a phone call and the student will be serving several detentions."
No matter what reasons students come up with for why they cheat, there are no excuses.
"Students probably cheat for a number of reasons," Renz said. "They get behind on work, peer pressure, pressure from parents to do well, they don't want to take the time to actually do the work and learn the material."
In addition to pressure and getting behind on work, Colwell also thinks it has to do with students getting by on the bare minimum.
"I think students who cheat are smart and have been able to get by in their classes by doing the bare minimum of work," Colwell said. "So, they feel like they can just get their homework done by copying because they don't need all of the practice problems the homework gives them."
In addition to the obvious consequences of cheating, students that are members of NHS may face some of their own consequences if caught cheating.
"If a teacher comes to me with evidence of cheating, I will meet with the Faculty Committee and Dr. Hester and then a letter of reprimand will be sent," said Colwell, who is also NHS sponsor. "It will serve as a warning to the student and the student only receives one warning. Any other infraction of the by-laws of NHS could result in dismissal from the chapter. Sometimes the incident might warrant dismissal without a letter of reprimand, which is also outlined in the NHS by-laws."
With there being no excuses for cheating and time devoted to teaching the subject, Brooks is more perplexed than angry about students cheating.
"Students cheating makes me feel mostly confused," Brooks said. "I don't understand how students ever think they will comprehend the material if the never do it on their own. It's also frustrating because by the time I test them, we have gone over the material numerous times. The test is simply an opportunity to raise their grade."
Teacher Ron Leikam also struggles with why students choose to cheat.
"I feel horribly when students cheat and try to take the easy way out," Leikam said. "I wish students would realize that when they do their own work, they get so much more out of it and understand the material so much better."