The City of Ember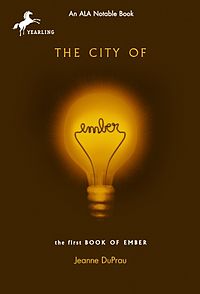 .
December 12, 2011 • Laurissa Marcotte, Staff Reporter
Filed under Movie/Book Reviews
Imagine a vast, underground city lit only by shoddy street lamps and a failing electrical system.
Imagine a tyrannical, corrupt government that hoards the city's supplies and leaves the citizens hungry and destitute.
Now imagine you've never known anything besides this city, and then one day you stumble across instructions that tell you how to escape to the world above.
Lina Mayfleet, the main protagonist in Jeanne DuPrau's The City of Ember, has lived her entire life in Ember. She, like everyone else in the city, has never known daylight, moonlight, or any kind of light besides the dim electrical lamps that line the streets. The city's electric generator, powered by the nearby river, is falling apart, resulting in frequent blackouts that leave citizens fearful and powerless.
Even worse, corruption is rife within Ember. Line and her friend Doon Harrow discover the mayor stealing from the city's supply room, leaving citizens without enough food to feed their families. Though many remain blind to the city's troubles, Lina and Doon know the truth: if something is not done quickly, life as they know it is about to end.
DuPrau weaves a classic kids' tale of adventure and bravery in the face of danger. I found myself reading into the wee hours of the morning, unable to put the book down. Is it weird that I'm 18 years old and still thoroughly enthralled by a book written for elementary school children?
The plot is riveting. With plot twists at every turn, DuPrau never left me disappointed or unsatisfied. She does an excellent job of connecting to the reader—I felt like I was living the book rather than reading it. My emotions went along with those of Lina and Doon, and I could almost feel the damp, cold city through DuPrau's lovely imagery.
I don't care if this book is for young children, or if I'm a little slow on the uptake (apparently, everyone and their dog has read The City of Ember besides me). I can't wait to start reading the sequel.
12lmarcotte@usd489.com