On whining: no one wants to hear it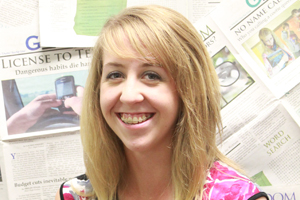 .
March 25, 2011 • Sami Hobson, Assistant Editor
Filed under Opinion
It's been a while since I've ranted.
A certain group of people have been getting on my nerves. They've bothered me for as long as I can remember, but their behavior as of last has pushed me to my breaking point. I can't take any more. These people are whiners.
It must be that time of the year where everyone is lazy, bored, cranky and trying to avoid responsibility. Maybe I notice it more this year because of the senioritis business. But regardless of the cause I am severely annoyed.
Life is too short to complain about supposed "injustices" 24 hours a day. Trust me; your friends do not want to hear it.
Seriously, I don't want to deal with the fact that you hate your life because all your privileges were suspended at home due to your five F's. Come on. Also, relentless relationship problems take their toll on friends.
Of course, sometimes things really are unfair and you just need to vent. A big breakup or other life event is cause for a bit of whine. We're all guilty of that, we want to receive sympathy so we feel better about our problems.
But whining consistently over petty things like homework assignments is utterly obnoxious. All you have to do is sigh to yourself and get it done. I guarantee you no one has ever died from writing an English essay.
There's also another type of whining that I hate. I'm sure you all know someone who complains about their appearance far too much, when most of the time it's unwarranted.
"Ugh, I'm breaking out. There's like 12 pimples on my face."
"I don't see anything…"
It's especially annoying when the whiner saying these fallacies is pretty/handsome and you wonder how someone like that can voice such insecurities.
I digress. My point remains that there is a certain time and place for a bit of whining, but as of late the act of complaining has become trite.
Suck it up and get to work.