Concert Choir students attend Blue Man Group performance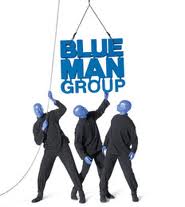 .
April 9, 2012 • Eryn Johannes, Staff Reporter
Filed under A&E, Top Stories
The choir students left on Saturday, April 7 to Wichita to see the Blue Man Group.
"I saw the Blue Man Group in Chicago," sophomore Amy Jordan said. "They were awesome and I was really excited to see them again."
Blue Man Group is an organization founded by Chris Wink, Matt Goldman and Phil Stanton. The organization produces theatrical shows and concerts featuring popular music, comedy and multimedia.
"It's the whole package," teacher Johnny Matlock said. "It's music, lights, dance and comedy. It's very entertaining and I think the students enjoyed seeing it."
The bus left at 8 a.m., then the group stopped for food and shopping at the Town East Mall. The performance started at 2 p.m. at the Century II Concert Hall. When the show was over the group headed back and reached Hays around 7:30 p.m.
"I've seen it in New York," Matlock said. "I was mostly excited to watch the students' faces as they saw the show for the first time."
Junior Kendahl Garrett describes her opinion of the performance.
"I thought it was awesome," junior Kendahl Garrett said. "I had so much fun dancing and they were hilarious."