Aida Nominated for Outstanding Achievement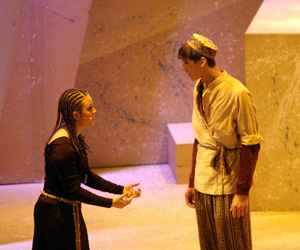 .
May 15, 2012 • Eryn Johannes, Staff Reporter
Filed under Feature, Top Stories
The Music Theatre of Wichita High School Musical Awards (Jester Awards) were announced late Friday. The 2011 musical "Aida" was nominated for outstanding achievement in 12 of the 19 categories for which were eligible.
The production "Aida" was nominated for outstanding achievement in the "Overall Production" category – in which only six of the 27 submitted musicals were nominated.
Here's the complete list of nominations AIDA received: Overall Production, Leading Actress – Kiley Dinkel (performing as Aida), Supporting Actor – Jake Parker Nelson (performing as Mereb), Ensemble/Chorus, Production Number – "The Gods Love Nubia," Musical Direction – Johnny Matlock, Choreography – Tawnita Augustine, Stage Crew, Scenic Design – Jeremy Wann, Brad Moritz, and Brenda Meder, Costumes – Janna Wright, Graphic Design – Northwestern Printers, Lobby Display – Stacy Berens, Andrea Carmichael, Jody Dinkel, Cari Rohleder and Lisa Schreck. Kj – kj
"Brenda Meder (drama director) and I were able to share this fabulous news with the kids and audience in award-style fashion, ripping open envelopes & everything at the conclusion of Friday night's Hays High Chamber Singers Dinner Show," music director Johnny Matlock said. "Of course, that timing and opportunity were perfect as 21 of the 24 Chamber Singers were in the musical and one was in the orchestra.  And for the five outstanding seniors who held leads in the show,­­­ (Kiley Dinkel – Aida, Ashley Nease – Amneris, Travis Wright – Radames, Aaron Cunningham – Zoser, Jake Nelson – Mereb) two were nominated.
"Wow, is the first thing I thought of," senior Kiley Dinkel said. "This is by far the biggest honor of my life, and I am so very grateful to have been given this opportunity."
According to Dinkel, this opportunity isn't just handed to anybody. Lots of hard work and energy was required.
"Aida was quite the role to fill," Dinkel said. "It was difficult to carry myself as she is portrayed on Broadway, but it came naturally after I got it. Additionally, it was very strenuous vocally. I'm actually surprised I didn't lose my voice for any of the shows. I think it is important to emphasize how big of a group effort this was. To be nominated in so many categories, one person can't do it alone. From parents to the tech crew to the chorus and directors, this show would not have been what it is."
The musical cast has been invited to perform at the May 18 ceremony and are asking the senior leads to be there and perform a number or two to represent the show.
"I will definitely be there," Dinkel said.  "Some of my family (my biggest fans) will be coming as well. I wouldn't miss this for the world. Jake Nelson and I will be performing our duet and my solo, "Easy As Life."
13ejohannes@usd489.com