Romantic comedy took stage last weekend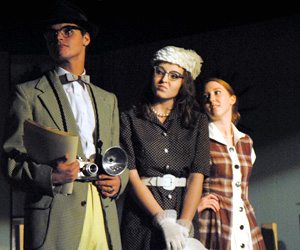 Hang on for a minute...we're trying to find some more stories you might like.
Instead of a playing field, these kids work on a stage. They suit up in dresses, fedoras, ties and pumps. Instead of a ball, bat or racket, they all hold playbooks. These are the kids who dedicate their time and energy to the Spring Play.
This year the Spring Play was "It Happens Every Summer," a play about the staff and guest editors of a 1962 New York fashion magazine. Every June, a group of college girls from all over the country come to work for the magazine as a prize for winning a contest. The girls all try to find the line between work and their social lives, and each girl has her own goal. This romantic comedy is intended to keep the audience's interest with witty lines and funny situations.
"I think the audience will like the irony in the show," sophomore Leisha Sadler, playing Bitsy Stelling, said. "They'll like Annabelle's character too. She really adds a lot of drama to the play. She is the drama."
Other members of the cast agree that the audience will love the characters.
"I think that the audience will feel really connected the characters and some of the one liners they have," sophomore Spencer McCue, playing Count Marcello Di Giacomo, said. "The play is way different than a musical."
Students had to dedicate around two hours of practice every night, occasionally holding an extra-long practice that can last for three or four hours. Practice, homework and lessons all have to be juggled by the cast members.
"I keep my schedule clear for spring play during second semester," Sadler said. "The only thing I have to watch is homework. Lately my nights have been filled with all homework and no play. Just keeping up with homework and balancing school, Spring Play, and the rest of my life is the most challenging part. Spring Play itself isn't so challenging as long as you follow instructions. 'It Happens Every Summer' is a good experience. It's just a different type of acting."
Students can learn important lessons about acting from being in the play.
"The hardest thing is really just the whole part of opening up and facing the audience when you're talking to someone right next to you," McCue said.
The play may take time and energy, but Sadler thinks it is all worth it in the end.
"I really enjoy the actual shows the best, but right now the best part is probably the dress rehearsals," Sadler said. "You get to relax downstairs while you're waiting to go onstage and some pretty hilarious stuff has happened downstairs. I love acting and hang out with my friends. That's mostly what Spring Play is."