Red Riding Hood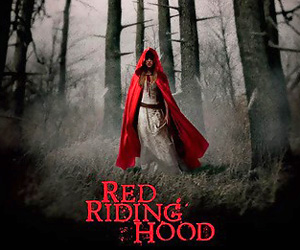 Hang on for a minute...we're trying to find some more stories you might like.
The tale of a girl traveling to her grandmother's in a red cloak is one that parents have been reading to their children before bed for years. However, this probably isn't the version that you remember hearing as a child.
The movie "Red Riding Hood" had me hooked from the beginning. A mix of horror and fantasy, this movie is a mystery from the very beginning. From the very start, the movie plot is all about finding out who the werewolf is that is attacking innocent people in the village.
Though we all know, this movie wouldn't be complete without a little romantic twist to it. The main character, Valerie played by Amanda Seyfried, is caught in the middle of a sticky situation. She has fallen in love with a woodcutter, Peter played by Shiloh Fernandez, but her family is displeased and has arranged for her to marry Henry played by Max Irons.
I thought the choice of actors was great. They had the looks to keep your eyes on the screen. However, this movie seemed a lot like "Twilight" just with a different twist.  Instead of your typical vampire, they give the werewolf a chance to be in the spotlight. There was a slight similarity between the lead vampire of "Twilight" and the woodcutter in "Red Riding Hood."
Despite the look-a-like guys, this movie did a good job of hiding who the werewolf was until the last minute. It has you guessing and questioning and the end is a surprise. It also didn't fail to leave out the famous line of "Grandmother what big teeth you have." It added more detail without butchering the original story. I would recommend you see this movie if you like the make-believe, mystery to the end type movies.