Hays High is the 2017 Kansas ACT College and Career Transition Exemplar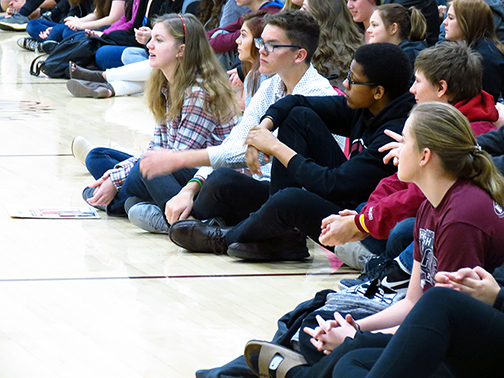 Hang on for a minute...we're trying to find some more stories you might like.
Set up in 2013, the ACT College and Career Readiness Campaign recognizes achievements and brings attention to the end goal of college and career readiness annually around the country. The ACT created the campaign to highlight individuals and institutions overcoming obstacles and working to improve the environment for students to learn and take the future into their hands, starting with college and career readiness.
The ACT College and Career Readiness Campaign recognizes exemplars in students, high schools, post-secondary institutions, and employers for each participating state.
This year, the ACT recognized Hays High as the singular exemplar high school for the state of Kansas.
The award was given based on the following criteria:
Student growth towards meeting ACT College and Career Readiness Standards
Support structures in place for students, particularly those from underserved populations
Success in enrollment/participation in dual or concurrent enrollment programs, internships, and other career navigation opportunities
Opportunities for students to develop collaborative problem solving, responsibility, goal-striving, self-knowledge, and career exploration skills
A high percentage of students taking ACT. The school's participation continues to increase as does the student body's Composite Score— the highest in 23+ years.
"All state exemplars will be considered for National Semifinalist status by an ACT Selection Committee, which will narrow the talented group into four National Semifinalists per category," Counselor Suellyn Stenger said. "Finally, a National Selection Committee composed of national education and workforce leaders will choose one semifinalist per category to make up four National Exemplars. These National Exemplars, along with all state exemplars and semifinalists will be honored at an ACT recognition event in October 2017 in Iowa City, Iowa. This award should serve as motivation for Hays High students to strive to do their very best."
Superintendent John Thissen spoke on how big this truly is for USD 489.
"It is a great honor to have Hays High School identified as one of the Kansas' ACT College and Career Transition Exemplars," Thissen said. "The recognition is affirmation to the hard work our Hays' teachers and students put into their preparation for the future. I am personally very proud to be a part of such a strong learning organization. The Hays community as a whole should celebrate in this achievement."
It's said the school won this award because Hays High teachers do a "great job of incorporating ACT practice within their curriculum."
"I am hopeful that Hays High School students are seeing the huge benefits of preparing and practicing for the ACT," Stenger said. "There are three ACT Prep classes that students may take throughout the school year.  However, students need to practice what they are taught. The pacing of the ACT is very challenging.  It is important for students to know that not every student should take the ACT.  Students should visit with their counselor to know if it is appropriate for them to take the ACT."
While the ACT is very important, that is not all that the school district wants us to push for.
"As a high school, it is our responsibility to prepare students to succeed in academics that lead to outstanding ACT and other competitive scores, but not exclusively," Stenger said. "We take pride in preparing our students to think outside the box while overcoming real world challenges.  Hays High School is invested in creating opportunities for our students to prepare for jobs that don't yet exist, therefore, ensuring continued life-long success."
17mcrees@usd489.com