Journalism instructor Bill Gasper named Jackie Engel Award winner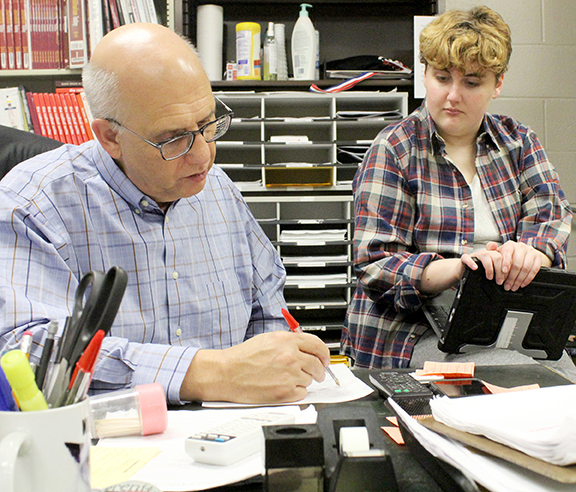 Hang on for a minute...we're trying to find some more stories you might like.
Annually the Kansas Student Press Association recognizes an outstanding journalism adviser in the state of Kansas, and gives them the title Adviser of the Year. This year, Hays High's very own Bill Gasper was the recipient.
"I am truly honored and humbled to be associated with such a great journalism adviser as Jackie Engel, as well as all the other top advisers who have previously won this award," Gasper said. "This is truly one of the highlights of my professional and teaching career. I am deeply grateful."
Gasper received a plaque and a cash award at the KCM Awards Conference in Wichita on April 10. He will also be recognized at the Lawrence May 6 competition, where he hopes to have his students follow up with their third consecutive sweepstakes win.
The Fort Hays State University alum has revived and advised the Guidon newspaper and the Indian Call yearbook for 13 years. Before making his way to high school teaching, Gasper worked as the editor of The Leoti Standard, and then as owner and publisher of The Ellis Review for over ten years. He was also owned and published The Hoxie Sentinel for 9 years. But not all of his jobs were with publications; Gasper was manager of organizational communications for K N Energy, Inc. from 1989-95 in Hastings, Neb. and Denver.
As far as applying for the award, Gasper had to send in a resume, copies of the publications he runs and a minimum of three letters of support from students or former students, colleagues, a publication representative, a parent, members of the professional press, or an administrator. The adviser received 30 recommendation letters from a mix of individuals, many students. 
"His students all say he his standards are the same he had as a longtime community journalist," a judge for the award said. "He holds them accountable and he insists on professionalism and responsibility. He teaches them ethics….and is a professional role model in every sense of the word. And they love him for it."
In his acceptance speech, Gasper referenced a student who helped to get the program rolling once again at Hays, during his first teaching days.
"Somebody told me once that to be successful, you should always surround yourself with good people," Gasper said. "And during my 13 years of teaching, I've been blessed with outstanding students who make me look really smart. I just can't thank them enough for being part of the journalism program at Hays High School."
17mcrees@usd489.com