New law makes texting behind the wheel a fineable offense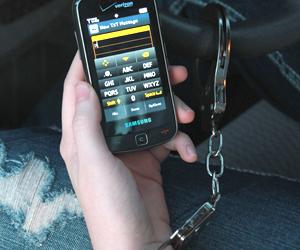 Photo Credit: Kit Schwarz
People who get caught texting and driving after Jan. 1, 2011, face fines of at least $100.
September 21, 2010 • Anna Shippy, Staff Reporter
Filed under Feature
It happens to all of us.  We are driving down the road when we hear our phone ring or feel it vibrate, meaning we just received a new text message.  Everyone tries to resist the urge to read what is probably just another message from their best friend.  Even though we know we shouldn't, we read it anyway and of course want to respond.  But what used to be fun is now illegal, and is punishable by fines as a result of a new state law.
According to Kansas Driving Law Section 126.2 Use of Wireless Communication Devices, "No person shall operate a motor vehicle on a public road or highway while using a wireless communications device to write, send, or read a written communication."
While many students think they can't get caught, School Resource Officer Brian Dawson said they are wrong.
"It will probably be hard to enforce," Dawson said. "But don't think that you can get away with it because there are still ways to get caught."
What many students don't realize is how extreme the fines for violating the law are.
"Until Jan. 1, 2011 just warnings will be issued," Dawson said. "After that however, a fine that is at least $100 will be issued depending on who you get pulled over by."
Many students feel that this law was made for a reason.
"I think it's a good thing because too many kids text and drive and they don't think it will affect their driving," junior Lane Martin said. "It leaves them a lot more open to get in a wreck, and possibly a fatal one."
Freshman Shelby Matlock agrees.
"I think the law is a good thing," Matlock said. "I don't know how many people follow it, but it's still a good thing."
Research shows that texting while driving can be hazardous. According to a study done by the Collier County Georgia Sherriff's Department, texting and driving is something that almost 50 percent of drivers ages 18-24 do.
A study done by the University of Utah found that texters take 23 percent longer to react to driving.  In another study they found that texting while driving is 50 percent more dangerous than just talking on a cell phone.
In addition to being dangerous as well as paying a fine, those who get caught texting and driving will possibly experience an increase in insurance.  Besides just paying your ticket, your insurance will possibly go up too.
"Your insurance might not want to cover you if you have been caught texting and driving, because it's not something small like forgetting to use your turn signal, it's something where you are putting other motorists and yourself at risk if you are distracted by your phone," Dawson said.
Dawson has the idea to use your glove box as your cell phone box, and keep your phone in your glove compartment while the car is on.
"It's a smart way to keep yourself from becoming distracted," Dawson said.